In this blog, Okeno highlights the stages of his journey while sharing the invaluable lessons that shaped him into the leader he is today.
"I started with a background in face-to-face customer support helping customers with a smile at brick-and-mortar locations. Therefore, stepping into the call center realm was like stepping into a different universe. The sounds of ringing phones, the rhythm of conversations and the fast-paced nature of the work were all new to me. In this new environment the keyboard and headset were my tools and my voice was the bridge between customers and solutions. It was a shift that required adaptation, quick thinking and above all a deep commitment to customer satisfaction.
Although unfamiliar, I embraced this new challenge with open arms. Becoming a call center agent taught me the importance of verbal communication, active listening and adapting to a wide variety of customer needs swiftly.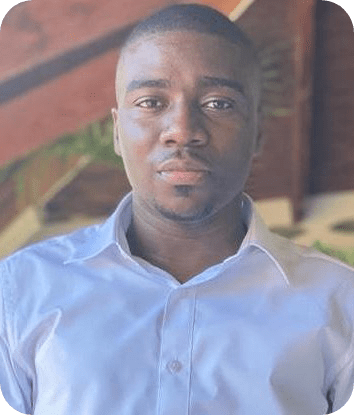 It was an environment that demanded resilience and problem-solving skills and it was here that I learned the art of providing exceptional service, even over the phone.
As I navigated this new terrain, I didn't just adapt, I thrived. My dedication to delivering top-notch customer service soon caught the eye of my managers. Within a short span, I found myself taking on more responsibilities, not just as a call center agent but as a Customer Care Representative (CCR) Lead. In this role, I not only continued to assist customers but also guided and supported my fellow agents. It was a transition that allowed me to share my experiences, impart knowledge and contribute to the success of our team.
My journey didn't stop there. Startek recognized my potential and promoted me to a supervisor position, which brought even more responsibilities and challenges. This role was a bridge between the front lines of customer support and the leadership team. As a Supervisor, I had the privilege of working closely with our agents providing them with guidance, training and the tools they needed to excel in their roles. It was a role that required empathy, strong leadership, decision-making and the ability to motivate and inspire others.
Today, I stand as a Manager of Operations overseeing multiple client projects and teams. This role has been the culmination of years of hard work, dedication and a commitment to excellence. It's a position that allows me to not only provide leadership but also contribute to strategic decision-making and the overall growth of the organization.
The commitment displayed by Startek to the growth and development of its associates has been a cornerstone of my journey here. From day one, I realized that this was an organization that deeply values its people and invests in their success. The provision of comprehensive training programs and leadership development initiatives has been instrumental in my career trajectory. Another way in which Startek champions this commitment is through its strategic partnership with a leading online learning platform. These courses have deepened my understanding of operational strategies, honed my leadership and project management skills and provided fresh insights into emerging industry trends. I've also been able to implement best practices, streamline processes and lead my team more effectively.
Throughout my time at Startek I have witnessed a culture that values growth and mentorship. This culture is embodied by our leaders who not only manage but also mentor and inspire. I owe a significant part of my career growth here to the exceptional leaders I've had the privilege of working with. From the moment I started as an agent, my supervisors and managers became more than just mentors, they became my guiding force. They shared their experiences, offered constructive feedback and encouraged me to embrace challenges and opportunities with confidence.
Joining Startek was more than just a career move for me, it was a harmonious alignment of values. From day one, I realized that one of the company's values - Work Together - deeply resonated with my own values. In my role the emphasis on working together extends beyond just completing tasks - it's about creating a culture of unity, support and shared success. I've seen firsthand how our collective efforts have solved complex challenges, streamlined processes and elevated our performance to new heights. As an operations manager, embracing the value of teamwork has allowed me to foster a work environment where diverse talents come together to tackle challenges, develop innovative solutions and achieve our objectives effectively and efficiently.
From my days as a call center agent to my current role, I've learned that every phase of this journey has been a valuable chapter in my professional story. As I reflect on my career's progress, I passionately recommend anyone embarking on their career to start as an agent. It's a role that provides a strong foundation, fostering transferable skills and a strong work ethic while providing exposure to the multifaceted world of the contact center business. It is not merely an entry-level position, but rather a solid foundation upon which a successful and rewarding career can be built."