The program was conceived by associates, for associates and is primarily funded by employee contributions to help one another in times of great need. The WIN program was quickly embraced by the leadership of the organization who recognized the importance of not just talking about corporate values but embodying them through meaningful actions. They understood that unforeseen challenges could arise in anyone's life and during unexpected life events associates should stand by each other. Therefore, the WIN program was born from the belief that associates should never feel alone in these trying moments.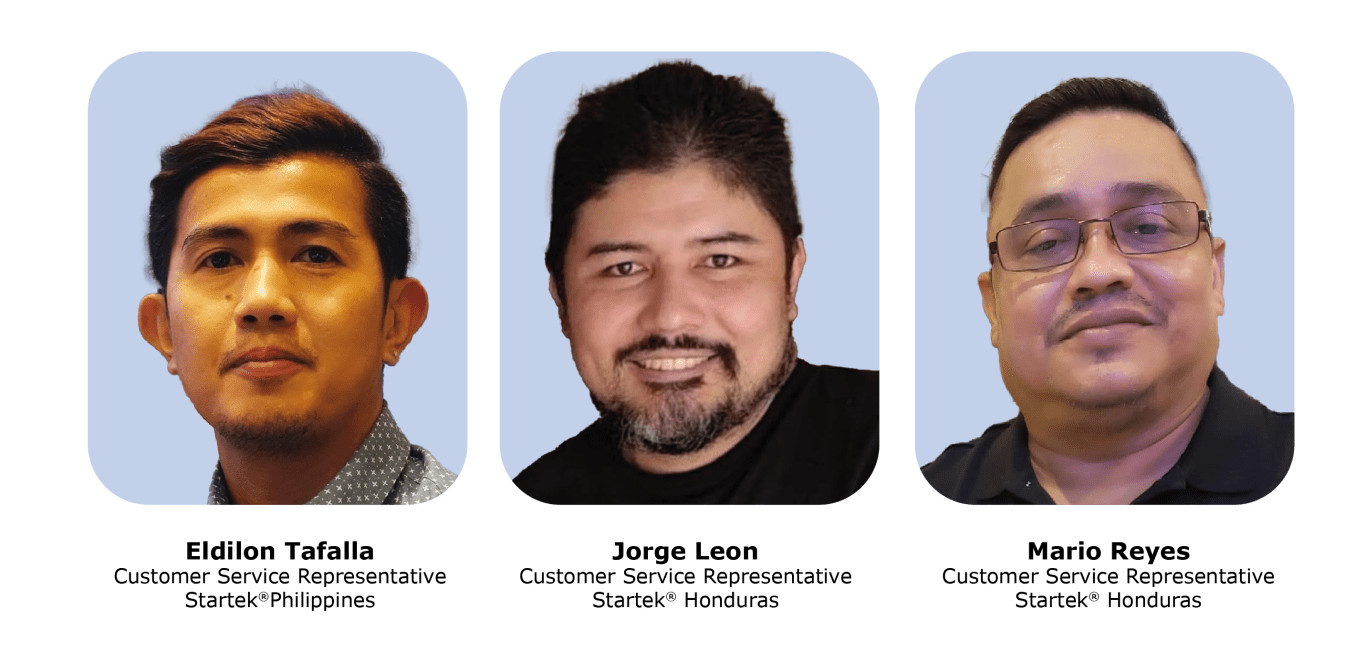 What makes the WIN program even more remarkable is how the associates have willingly embraced it. Many voluntarily contribute a portion of their salary to the fund. It's a humbling example of how the spirit of giving back has become ingrained in the Startek culture. This voluntary contribution isn't just a financial transaction, it's a demonstration of the associates' collective commitment to support one another. It's a reminder that while leadership may have initiated the program, it's the unity and empathy of the associates that continue to drive its success.
In this blog, three associates Jorge Leon, Mario Reyes and Eldilon Tafalla share their experience of leveraging the support of the WIN program, highlighting why and how the company's support became a lifeline during challenging times and the impact it had on them and their loved ones.
Jorge Leon works as a call center agent in Honduras. When his house wall unexpectedly collapsed causing extensive damage it needed fixing immediately. "When adversity struck and my home's wall came crashing down, I was left in a moment of sheer helplessness both emotionally and financially. But in times of crisis, it's comforting to know that Startek has our backs. There was a beacon of hope in the form of the WIN program. As soon as I reached out to the HR department about my situation, they guided me through the process of applying for financial assistance. The process was well-structured and transparent making it easy for me to navigate. Their prompt response and clear communication made me feel heard and valued. The efficiency and professionalism with which my request was processed is impressive. In no time, I received the support I needed to begin rebuilding my home.
The financial aid wasn't just about money, it was about regaining a sense of security and stability in my life. It allowed me to focus on my family's well-being without the constant worry of debt. More importantly, it reassured me that I belonged to a company that cares deeply about its associates. The weight lifted from my shoulders was immeasurable and I could focus on supporting my family emotionally without the constant worry of financial obligations. Today as I look at my newly rebuilt wall, I don't just see bricks and mortar, I see the strength of unity and support of Startek. It's a feeling that goes beyond words – a feeling of profound gratitude and belonging."
Contact center agent Mario Reyes from Honduras faced not one but two unexpected medical incidents. "It all began when my wife broke her wrist resulting in substantial medical bills. Just when we were trying to navigate this challenge, I also found myself unexpectedly in need of medical support. The road to recovery was not only physically daunting but financially overwhelming. This is where the Startek WIN program came into play. The program's financial assistance provided me with the means to cover the extensive medical bills that had accrued.
The support extended beyond just numbers – it reinstated a sense of security and enabled us to navigate the challenging situation with renewed strength. It was a reminder that I belonged to a company that cares deeply about its associates and their families. The empathy and support I received from my colleagues, the HR department and management were as invaluable as the financial assistance received. This experience reinforced my belief in the commitment that Startek undertakes for its people's well-being." 
Eldilon Tafalla, a contact center agent in the Philippines, found himself in an unexpected predicament while playing basketball. "The unfortunate event that unfolded while playing the game required immediate medical attention. It was a low period for me, but amidst a stressful situation, a ray of hope emerged in the form of the Startek WIN program. Before the incident, I wasn't aware of the program. My managers informed me about the company's WIN program and how it was designed to support associates during unforeseen circumstances. After connecting with the HR department and discussing my situation, they guided me through the application process with utmost empathy and professionalism. The process was straightforward and I was met with a level of understanding and compassion that I found truly touching. It was like a hidden treasure waiting to be discovered and it was discovered in the most unexpected way. 
The financial aid not only covered a substantial portion of my medical bills but also provided me with the reassurance I needed during my recovery. Beyond the immediate relief, the experience strengthened the bond between my family and Startek. The financial burden was lifted from my shoulders allowing me to focus on healing both physically and emotionally. With the overwhelming support that I received from my colleagues and management, Startek showed me that it's more than just a workplace - it's a community of caring individuals."
In the end, it's stories like those of these three associates that demonstrate the true essence of a company's values and culture. The Startek commitment to its associates' well-being is more than just words on paper - it's a living, breathing reality. The company's commitment to empathy, integrity and a genuine concern for its people are demonstrated through initiatives including the WIN program. The financial assistance program isn't just a policy, it's also a tangible representation of the Startek values in action. By offering a helping hand to associates in times of need, the company fosters a supportive and nurturing environment. This act of compassion resonates deeply with team members, fostering a sense of belonging and loyalty that extends far beyond the workplace.