Call centers are some of the busiest departments in any business. They can also be some of the most fast-paced areas of your operation. On any given day, agents field voice and non-voice inquiries from customers and prospective customers about everything from billing to shipping and logistics. Representing your brand in every interaction, your contact center agents must input data, listen intently to customer needs, provide accurate information and a consistent positive experience in an environment constantly evolving to meet customer needs. It's no small feat.
Brands looking to improve the efficiency and effectiveness of their call center operations should consider implementing robotic process automation (RPA).
In this blog, we uncover what call center automation is, the types of automation available, key benefits and why automation is a perfect fit for call centers in today's digital-first world.
What is call center automation?
Robotic process automation or RPA is an intelligent technology that can be employed to automate tasks that are repetitive and rule-based. Technology may be able to physically manipulate the environment, but it does so in a predictable way based on its programming. RPA is able to work faster and more accurately than humans, making an ideal solution when there's a lot of data that needs to be input or analyzed or when there are complex algorithms that need to be executed. RPA can also effectively manage rules-based processes that need to be executed regularly.
Call center automation can be used to support processes within customer service, IT operations, digital marketing and finance. In call centers, RPA is primarily used to streamline customer service, deliver customer support and fast-track troubleshooting.
As customers increasingly expect immediate, 24/7 service and more personalized interactions, the task of managing customer contacts has become increasingly complex. Agents can find themselves torn between the need to focus on the customer and their needs and the requirement to deliver, capture and record information. RPA can alleviate some of the burden enabling agents to deliver a better customer experience (CX).
Why automation is a good fit for call centers
Call centers are busy environments. Whether business hours or a 24/7 operation, agents are required to deliver accurate information and a consistent, positive experience at every interaction. Whether taking orders, managing returns or troubleshooting technical issues, agents must juggle many different tasks at once. And with so much data being transferred back and forth in every interaction, it can be easy for human error to occur. But with RPA, data entry mistakes can become a thing of the past and agents can be relieved of the burden of repetitive, manual tasks.
RPA is split broadly into two categories, attended and unattended automation.
Unattended RPA bots work independently of human intervention, triggered by systems and working to predefined scripts. Examples of unattended automation include customer support chatbots, automated invoice processing and automated data entry and processing. Attended RPA meanwhile is typically triggered by a human and often employed to reduce the number of steps an agent must take to complete a task. For example, agents are often required to access and complete information in multiple applications. With an attended RPA bot acting as an assistant, agents trigger the bot to perform a rule-based task such as accessing and collate information. RPA speeds up the process, reduces input errors and enables the agent to focus their attention on the customer, improving CX.
Types of call center automation
Integrating automation into your call center can have many benefits, including driving cost efficiency and increasing agent productivity. But what type of automation is right for your call center? Here are some of the most popular types of automation used in call centers today:

1. Interactive Voice Response (IVR): IVR systems interact with callers through the use of pre-recorded voice menus. Callers can select from various options using their keypad or voice commands, and IVR systems can handle multiple calls simultaneously. IVR can be used to route calls to the appropriate department or agent, provide information about products or services and even take payments.
2. Predictive dialing: Predictive dialing systems make outbound calls automatically and connect callers to an agent only when there is an available agent to speak with them. This helps to improve agent productivity by eliminating wait times between calls. Predictive dialing can also be used to make outbound sales calls or perform market research surveys.
3. Workforce management: Workforce management systems help call centers to schedule agents' shifts, track performance and optimize staffing levels. This type of automation can help to ensure that contacts are being answered in a timely manner and that wait times are minimized.
4. Chatbots: Chatbots are a type of automation that can handle simple tasks, such as answering FAQs or providing basic customer support. They can be used to supplement or replace human agents, depending on your needs.
5. Data entry and processing: RPA enables call centers to achieve high levels of data accuracy by eliminating the need for agents to re-key information. RPA can also automate the extraction of data for reporting.
Applications of Robotic Process Automation (RPA) in call centers
Robotic Process Automation (RPA) can be used in a number of ways in call centers. One way is to use RPA to automate repetitive tasks such as placing phone calls or sending emails. This can free up agents to handle other tasks. RPA can also be used to handle customer queries.
For example, an RPA bot can be used to provide information about product features or pricing. Additionally, RPA can be used to monitor call center performance and identify areas for improvement.
RPA can also be used to route calls more efficiently, by taking into account the caller's location and the availability of agents. Additionally, RPA can be used to generate reports or analytics based on call center data. By automating these tasks, call centers can improve efficiency and free up agents to handle more complex tasks.
For example, an RPA bot can be used to ensure that customer information is entered correctly into the system. The bot can also be used to generate reports or follow up with customers after a call.
Big benefits of integrating automation in call centers
If you manage a call center, you know that automation can help improve efficiency and effectiveness. Here are five benefits of integrate automation into your call center operations.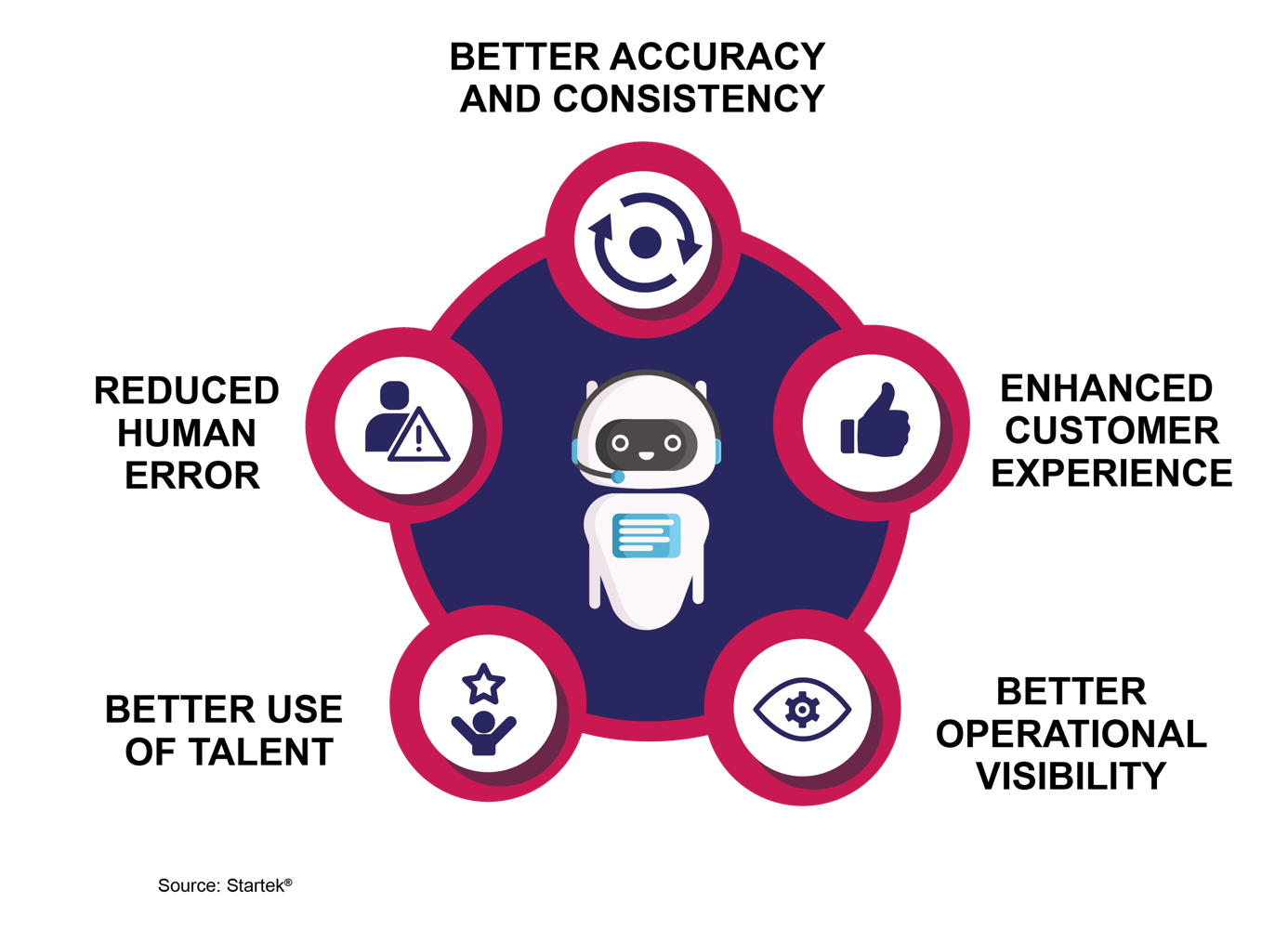 1. Better accuracy and consistency - With automation, your agents won't have to worry about entering data incorrectly, which means fewer mistakes and more accurate data overall.
2. Reduced human error - with automated solutions, you can rest easy knowing that your agents won't make mistakes when entering data during calls.
3. Enhanced customer experience - A streamlined, error-free experience for your customers will help you keep your brand reputation intact.
4. Better use of talent – Automation can free agents up so that they can do their jobs more effectively. This means you can use your talent more effectively and deploy your team in the areas where they're needed most.
5. Better operational visibility - Automation can help you see what's going on in your business by giving you real-time operational visibility across multiple channels.
To learn more about how automation could enhance your CX delivery, contact us.