As customers continue to reward brands for delivering personalized experiences, data becomes ever more valuable to organizations striving to nurture customer engagement. But most brands still struggle to manage the data locked up in voice conversations. Call center speech analytics effortlessly turns unstructured voice data into actionable insights.
Although digital channels continue to grow in popularity, voice remains the preferred channel for customer service queries, meaning any brand with a contact center must put tools in place to ensure this valuable data can be mined and used to create brand value.
First commercially available in the early 2000s, the applications for speech analytics and the benefits the technology delivers for brands seeking to differentiate through customer experience (CX), have grown rapidly. Today, natural language processing (NLP) makes it possible for technology to understand conversations in the everyday language customers use when speaking to your customer service team. Increasingly, leading brands rely on speech analytics to uncover the insights necessary to build world-class experiences.
What is speech analytics?
Speech analytics uses technology to listen to and analyze conversations. By using AI, rather than people, large amounts of unstructured data can be analyzed effortlessly.
Speech analytics identifies words and analyzes audio patterns to detect emotions, monitor agent performance and assess call quality.
Similar technology can be employed to analyze text and the combination of speech and text analytics gives organizations the ability to uncover deep actionable insights that can be used to improve future interactions or have a positive impact on 1-2-1 customer interactions in real-time.
McKinsey estimates that speech analytics can drive cost savings of up to 30% and deliver customer satisfaction score improvements of 10% or more.
Post-call and real-time speech analytics
Speech analytics can be applied after the call has taken place, referred to as post-call analytics, or take place in real-time.
Post-call analytics is used to identify trends, for example to identify detect commonly used phrases. By uncovering the pain points and unmet needs that lead customers to reach out to customer service, brands are able to improve their customer experience, drive satisfaction and develop new products or services.
Real-time speech analytics improves the 1-2-1 experience of agents and customers, for example by prompting agents to take a particular action, notifying managers that an agent needs support or prompting agents to offer appropriate products or resolutions based on the conversation taking place.
Speech analytics benefits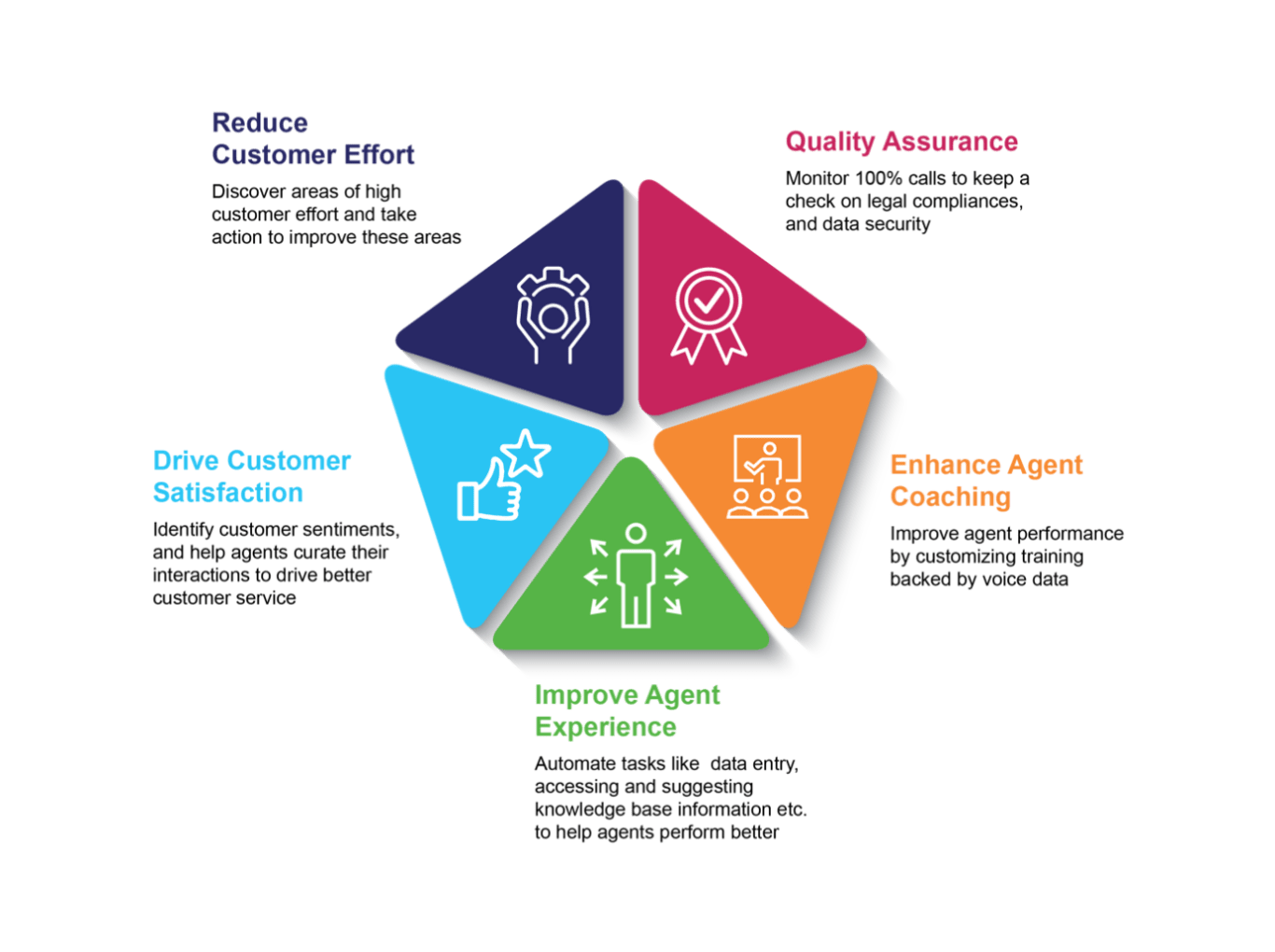 Within the call center, speech analytics has five primary benefits:
Reduce customer effort
Post-call speech analytics enables brands to uncover areas of high customer effort and pinpoint actions that can be taken to improve customer engagement and satisfaction. For example, if customers repeatedly reach out to live agents because they have been unable to complete a particular task on the brand website or app this insight can be used to improve self-service functionality, enhancing customer satisfaction and driving efficiencies for the organization.

Post-call speech analytics can provide valuable insights that improve the ability of self-service tools, including chatbots, to contain customers within the self-service channel and avoid the need to escalate to more costly live agents.
Quality assurance
Speech analytics enables 100% of agents' conversations to be monitored in real-time and prompt agents to adhere to required scripts or phrases, for example, to ensure legal compliance.

With more agents than ever before working in a home environment, many brands are focused on maintaining data security. Real-time speech analytics also enables brands to guard against social engineering by monitoring when personal data is requested and flagging unnecessary demands to managers for review. This can be especially useful in industries where customers may expect to be asked to share sensitive information, for example in banking, insurance and healthcare.
Enhance agent coaching
Many call centers record agent calls but few of those recorded calls will ever be reviewed. Contact centers often rely on 1-2-1 line manager-led coaching to improve agents' skills, but no call center has the staff that would be needed to listen to and review every call an agent makes. In this scenario, opportunities to engage and motivate agents around well-conducted calls may go overlooked and opportunities for coaching are also missed.

Speech analytics makes listening to every call possible, empowering managers by identifying coaching opportunities as well as highlighting examples of well-executed calls. By enabling agents to receive feedback in real-time, speech analytics drives continuous improvement in every call.
Improve agent experience
Customer service agents must perform many roles simultaneously, documenting call details and accessing and sharing appropriate information while, at the same time, listening closely to the customer's conversation. Your brand wants the customer to feel heard and understood, but multi-tasking agents may struggle to give them the attention they need.

Speech analytics makes it possible to alleviate the burden on agents by automating tasks such as data entry, accessing and suggesting knowledge base information and prompting next best actions in real-time. By streamlining the agent experience, speech analytics improves agent satisfaction, speeds agent ramp times and drives agent retention.
Drive customer satisfaction
By identifying customer sentiment, speech analytics can be used to alert agents to the emotional state of the customer, for example whether a customer is happy or frustrated, and use this information to prompt appropriate actions.

Speech analytics can also ensure agents avoid language and phrases that cause customer dissatisfaction and ensure a consistent experience is delivered regardless of who is taking the call. In this way, speech analytics can be employed to ensure a positive brand experience at every touchpoint.

By prompting agents to deliver the most appropriate information or promotional offer in response to the conversation being had, brands can drive sales and improve customer engagement.
Making speech analytics insights actionable
Speech analytics enables organizations to effortlessly scrutinize vast amounts of data and uncover strategic insights. But insights can only add value to an organization if they are easily accessed and understood by those who need to act on the latest information.
To derive benefit from speech analytics it is essential to consider where the insight you intend to unlock will add the most value in your organization, for example to executive teams or operational teams, and ensure these groups have easy access to dashboards that make it possible to incorporate the findings into their day-to-day activity.
Finding the right partner
Speech and text analytics offer brands wide-ranging opportunities to improve the customer and agent experience, but many organizations are unsure where to start or how to best use the data that speech analytics unlocks.
Working with a partner that takes the time to understand your business goals and customer needs and has the experience necessary to guide you toward the use cases that will add most value for your brand is essential.
Startek has more than 30 years' experience delivering world-class CX for brands across the globe. To learn more about how speech analytics can help your business to reduce agent attrition and drive customer satisfaction, contact us.